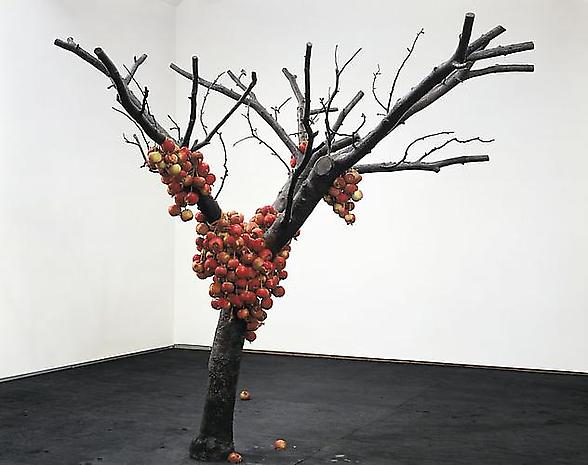 because nothing has changed, 2001
cast bronze, 250 live apples, twine
Anya Gallaccio
(born 1963) is a
Scottish
artist
, who often works with organic matter. Born in
Paisley
,
Scotland
to TV producer
George Gallaccio
and actress Maureen Morris, she studied at
Kingston Polytechnic
and
Goldsmiths College
. In 1988—the year she graduated from Goldsmiths—she exhibited in the
Damien Hirst
-curated

Freeze

exhibition, and in 1990 the
Henry Bond
and
Sarah Lucas
organized
East Country Yard
shows, which brought together many of the
Young British Artists
. Gallaccio is a Professor in the Department of Visual Arts at the University of California, San Diego (UCSD). She was a nominee in the 2003
Turner Prize
.
Much of her work uses organic materials, with

fruit

,

vegetables

and

flowers

all featuring in her work. Sometimes these materials undergo a change during the course their being exhibited. In Red on Green (1992), ten thousand rose heads placed on a bed of their stalks gradually withered as the exhibition went on.For Intensities and Surfaces (1996) Gallaccio left a thirty two ton block of

ice

with a

salt

core in the disused

pump station at Wapping

and allowed it to melt.
reserve 'beauty', 1991/2003
900 red gerbera 'beauty' pressed behind glass
that open space within
(2008)
revons d'ôr, 2006
cast bronze, glazed porcelain, polyester rope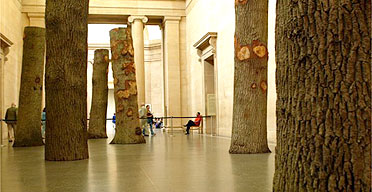 As long as there were any roads to amnesia and anaethesia still to be explored, 2002
7 felled Oaks
Other works by Gallaccio include Stroke (1993) in which benches in the gallery and cardboard panels attached to the walls were covered in

chocolate

and Because Nothing has Changed (2000), a

bronze

sculpture of a

tree

adorned with

porcelain

apples

. Because I Could Not Stop (2002) is a similar bronze tree but with real apples which are left to rot.
At

Houghton Hall

in

Norfolk

, the

Marquess of Cholmondeley

commissioned a

folly

to the east of the great house. "The Sybil Hedge" is an "artlandish"

folly

. It is based on the signature of the marquis' grandmother,

Sybil Sassoon

. Gallaccio has created a sarcophagus-like marble structure which is sited at the end of a path; and nearby is a copper-beech hedge which is planted in lines mirroring Sybil's signature.
2005 saw the publication of Anya Gallaccio: Silver Seed by

Ridinghouse

, which accompanied the artist's exhibition commissioned by the Mount Stuart Trust for an installation at Mount Stuart on the Isle of Bute, Scotland.
I came across Anya Gallaccio's work recently and can't help but be drawn to it's beauty and use of natural materials. Her work tends to bring natural elements into an unnatural environment to be admired which I find quite interesting as installation work. Her work tends to deal with the theme of life and death in her pieces especially 'Red on Green' in which the flowers eventually withered and died which concluded the piece as an exhibit. Which gives her work the

physical presence of the passage of time in a space for viewers to see. I also liked her range of materials since she has also used trees or parts of them and included other materials with them as part of the pieces.
Her work luckily was showing at the McManus gallery as a surprise to me as well as maily other British artists who have used the natural world in their art. It gave a lot of inspiration to working within this type of theme since I've not worked with the natural world before creatively.